I am cleaning out my needlework collection.
UPDATE: THESE ARE NO LONGER FOR SALE, NOR DO I HAVE THEM
Kits include floss, fabric, and instructions. (Sometimes a needle as well.) Each is brand new. All are unopened, except the Eagle.
The Watcher — $12.50   A wolf peers around a pine tree. (Finished size should be about 9×14.)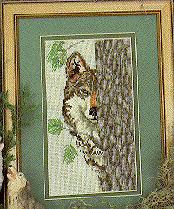 Buffalo Skull — $15  A painted skull with feathers hanging from the horns. Includes beads and fetishes for adornment. Finished design would be about 7.5×8.5 (New is $36)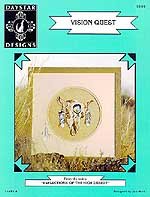 Eagle — $7.50  An Aztec-styled eagle (aka Thunderbird) striking a coiled snake. Finished size 6×6. (New is $12.95) (Its the one on the left in the picture.)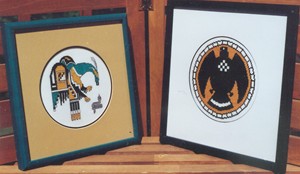 Irish Blessing — $15  "May the roads rise . . ." surrounded by an intricate Celtic border. No longer available except as a chart, in collections. Item is in the front, left of the picture.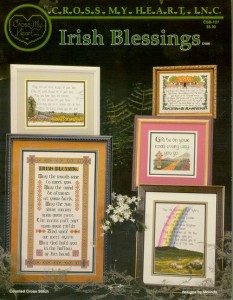 I also have two charts. These are the pattern ONLY, no fabric, thread, etc. Each is $5.00.
The Star Maiden by the (now defunct) Witches Stitches. You can see a photo of a completed project at: http://home-and-garden.webshots.com/photo/1087179329028356309tqIjdW
Astrology Sample, also by Witches Stitches.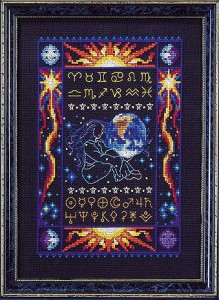 I'm happy to mail these kits and charts, $5 for a kit, $2.50 for a chart. International orders will be at cost.