Now that I am seriously bald (there's just a light shadow of hair . . . sort of a 5-o'clock thing) I'm strongly contemplating doing a mehndi tattoo.
For those of you who don't know, mehndi is a temporary process that uses henna to stain the skin, usually in intricate patterns. It's from India, and is a part of their celebrations, eg wedding parties will often be tattooed as part of the festivities.
It starts out black, and then flakes off to leave a dark red pattern that slowly fades. I've found a local practitioner who will come to my house to do it, and I'm thinking that doing it now will allow it to slowly fade as my hair regrows in mid to late May.
J. thinks I'll be unhappy with it — that it'll draw unusual and uncomfortable attention to myself. What do you think?
Here are some pictures so you have an idea of what I'm thinking about.
These give you an idea of how dark it looks just after completing the design: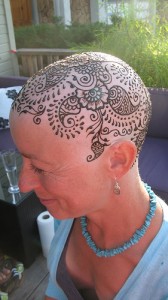 Here is what the design looks like after the henna is off and just the tattoo remains: