One of our 'rules' is that getting to a foreign country is so expensive that we want to stay there as long as possible.  Another rule is that we each pack only a piece of luggage small enough to carry on, and a personal bag. Yet another rule is that we do our best to dress like locals. This means we have to get creative about what — and how — we pack.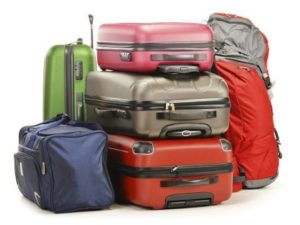 This September we'll be spending my 50th birthday in glorious Italy. After a long weekend in DC, we'll spend about a week in Rome, then just over two weeks in several properties in the region known as Tuscany. Our days will be a mix of sightseeing, driving through amazing countryside, tromping around in hills and ruins, and sitting poolside relaxing with a book. Meals in Rome won't be upscale, but we're having a very special meal event in DC to celebrate my father's 70th. All of which will require different outfits and accessories. . . . So how will we manage?
First off, we're only taking one 'special occasion' outfit — and it's getting mailed home from DC. We just won't need it in Italy, where we aren't having a fancy dinner in Rome, and outside of the cities people aren't going to be dressing up nearly as much. So that instantly gives us a scooch more space in our luggage.
I think the next issue to solve is fundamental: shoes. This a tough one, even if you aren't "into" shoes the way some people are (I may be looking at you D. or C.). J.will bring two pairs of sturdy walking shoes. He says he'll pick up some cheap flip flops or something to wear poolside and just leave them behind. I'm planning to take four pairs:
sturdy walking shoes/ sneakers for country scrambling
'city' walking shoes
nice sandals for dinners and short strolls
sandals for poolside
My sneakers are the All out Blaeze Aero from Merrell. With a body made of mesh (which helps air circulation) and a very sturdy bottom they are great for clambering over dusty hillsides. I wouldn't wear them in the city — too touristy, but for out in the country, they are perfect.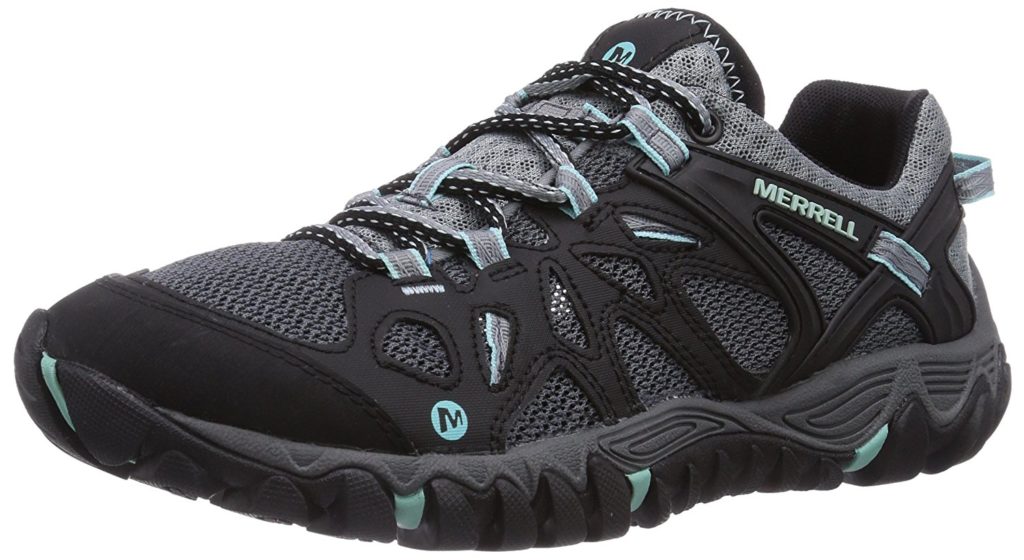 In Rome, I'll be wearing Merrell's Dassie Slide. A little dressier, but with a low profile that keeps them walking friendly. Note the sturdy bottom (which will help protect me from cobblestones).  I can wear them with low cut, no slip socks from SmartWool and be comfortable all day. (I know, I've been practicing by doing this for office outfits. It's not 6+ hours on my feet, but its a good test run.)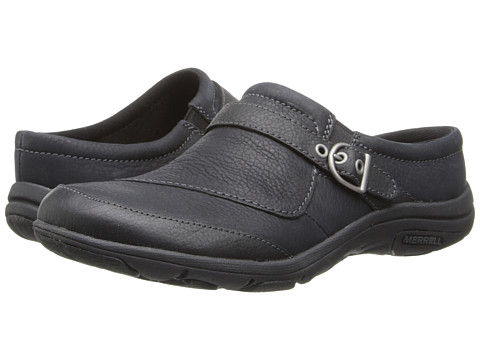 My nice sandals are the Leisa Annual from Clarks. These are a new purchase and I love love love these sandals. Like all of Clarks' they are well made and comfortable. I've been wearing them for a couple of weeks now and they are perfect for easy strolls to and from meals and short walks through towns.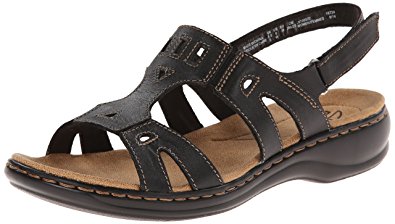 My poolside sandals are just an old pair of Teva slip ons. I've had them for almost five years and they are bare bones simple. (No pic).
Once the shoes are figured out, I find everything else falls into place as we just make a list of scenarios:
dinner out
around the house
sightseeing (walking/ metro/ city)
sightseeing (car/ country)
pool/ spa time
sleeping
traveling (plane and car)
Of course each of those scenarios doesn't require entirely new clothes; quite the opposite. We want to pick clothes that overlap in as many ways as possible, factoring in the weather.  I'm planning on it being in the high 70s to low 80s during the days, dipping to the low 60s at night, which means I'll want to be wearing dresses and skirts most of the time. The addition of nicer jewelry, silk scarf (wrap), and make up will turn my daytime dress into a dinner-worthy outfit. The nights might be chillier, especially if the heat isn't on, so I'll make sure to have socks, light sweats, and a tshirt to sleep in, which doubles as my travel outfit, and triples to become my 'around the house' outfit with a change to shorts and my sandals depending on the weather. Pool outfits are the swimsuit and a coverup, easy enough. Sightseeing will be a skirt with a blouse or a dress. Nice enough to look good over a long lunch, but cool in the heat.
All told, my clothes list looks like:
(4) pr shoes (always, always, ALWAYS in bags)
(2) dresses
(2) skirts
(4) blouses
(1) t shirt
(6) undies
(6) bras
(6) socks (1 cotton, 5 Smartwool)
lightweight sweats/ capri leggings
bathing suit
cover up (maybe — I might just purpose a dress for this)
silk-wool wrap/ scarf
lightweight sweater/shrug
As well, my suitcase will hold:
chargers and adapters
toiletries (razors, face cleanser, emery board, tweezers, band-aids, aspirin, and floss)
'travel-sized' umbrella (ours was purchased at the National Trust in England)
makeup bag
travel books & maps
(2) gallon size ziploc bags (just in case; it only takes having to travel once with a wet bathing suit to make this a practicality)
Everything will fit into a a carry on — we love love love our TravelPro Crew 22″ suitcase. It has a 2.5″ expansion zipper which means you can count on having space in suitcase for your return . . . as long as you check your bag. It's also super sturdy. We got ours for our honeymoon in 2012 and they've done a lot of traveling since then. They still look good and the zippers are perfect. Only once have we been forced to check our bag, and it was because of an officious, overly finicky gate attendant who took against me.  (I say that because a. we were flying Business Class which has a ton of space for each seat, and b. I watched other passengers come on board with huge shopping bags that were well out of the size restriction. Hmm…  maybe I need to let my resentment go.) When we need to replace our bags, I'll probably switch to a slight smaller model just to ensure that we won't run into that issue again. Here's a pic of a similar model (ours are teal, not purple):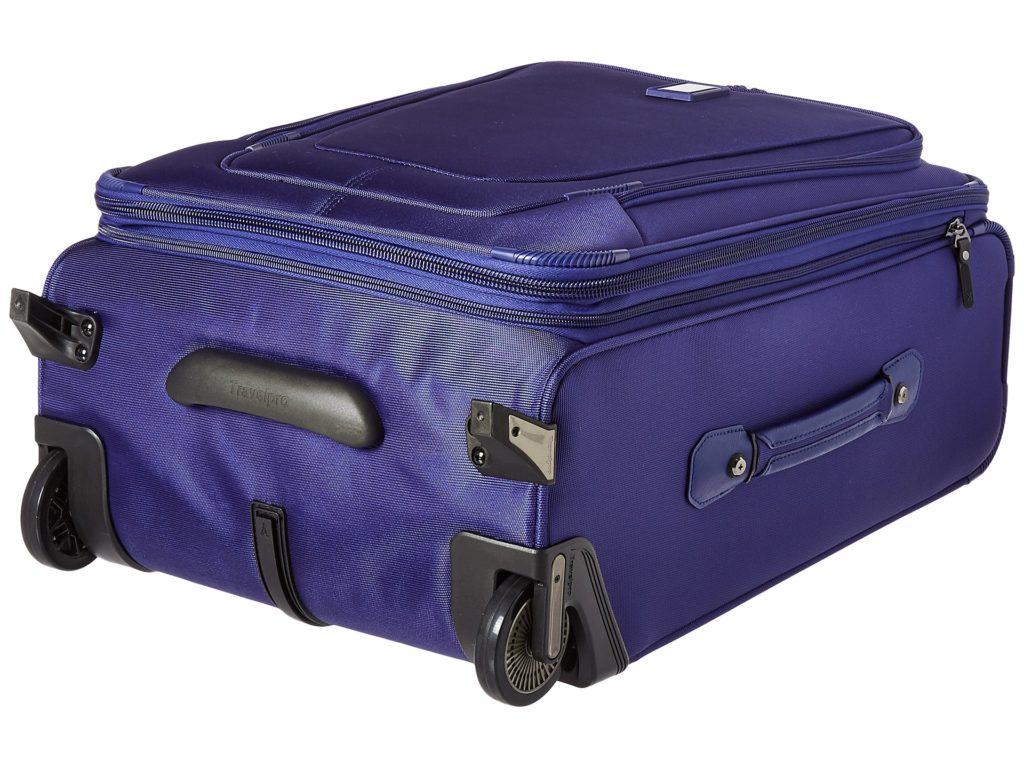 We also have 'personal' carry ons which we try to use to maximum effect. Mine is a laptop backpack that I use everyday. It easily holds my camera and other electronics, as well as bottled water and a change of underclothes. (Let me tell you, being able to change your undies after a cross-ocean trip makes for a much better transition into the world.) My bag looks like this:
So our carry ons will hold:
prescription medication
cell phones
Surface and mouse
Kindles
MP3 player (me)
camera
toiletries (lip balm, hand/body lotion, deodorant, comb/brush
travel documents
jewelry
journal & pen (me)
One thing we'll be keeping in mind is that throughout Italy the sacred spaces often (always?) require visitors to wear modest clothing. Modest means covering shoulders, legs, and chest areas. Failing to dress modestly may mean we aren't allowed into, or kicked out of, historic religious sites. As well, Europeans — at least in the places we've been — are far more fashion conscious than most Americans care to be. We make an effort to blend in by not wearing sweatpants, athletic shorts, T-shirts, or sneakers; for example, our city shoes more closely resemble oxfords. In general, we've learned to stick with a unified color palette. Neutrals (brown for J, blue for me) and prints in similar shades make everything we pack match. So it doesn't matter what's clean, it will always look coordinated. Coordinated goes a long way towards being fashionable.
EDIT: ha! I just found a post from the last time we went to Rome . . . and it includes my packing list. WOW how our travel needs have evolved (and simplified). I thought we packed light then, and we did. But we've gotten even better since then.
Save
Save
Save
Save