J brought home very late season strawberries and they just didn't didn't look good enough to eat outright. But along with some grapes and blueberries in the fridge I felt like trying to make a cobbler. My camera was handy, so y'all get to see the process.
Ingredients
2 1/2 cups mixed berries (sliced)
1 cup sugar, or to taste
1/2 teaspoon all-purpose flour
1 tablespoon butter
1 3/4 cups all-purpose flour
4 teaspoons baking powder
6 tablespoons sugar
5 tablespoons butter
1 cup milk
2 teaspoons sugar
1 pinch ground cinnamon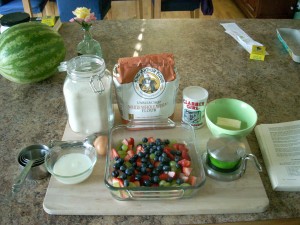 1.  Lightly grease an 8-in-sq baking dish. Place the grapes and berries into the dish, and sprinkle with 1 cup of sugar and 1/2 teaspoon of flour. Dot with the tablespoon of butter. Set aside.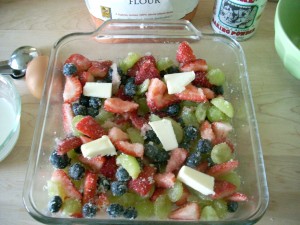 2. In a medium bowl, stir together 1 3/4 cups of flour, baking powder, and 6 tablespoons sugar. Rub in the 5 tablespoons butter using your fingers, or cut in with a pastry blender until it is in small pieces. Make a well in the center, and quickly stir in the milk. Mix just until moistened. You should have a very thick batter, or very wet dough. You may need to add a splash more milk. Cover, and let batter rest for 10 minutes. (My hands were messy at this point, so no more pictures for awhile.)
3. Preheat the oven to 375 degrees F. Spoon the batter over the fruit, leaving only a few small holes for the berries to peek through. Mix together the cinnamon and 2 teaspoons sugar; sprinkle over the top.
4. Bake for 20 to 25 minutes in the preheated oven, or until the top is golden brown. Let cool until just warm before serving. This can store in the refrigerator for 2 days.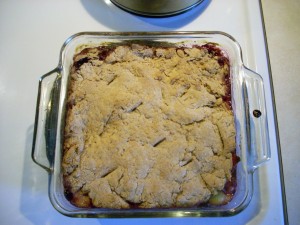 Would you like a closeup of the bubbling edge? Sure you do.