We drove in a straight shot yesterday, leaving around noon and ending up in our room by 7:30 — which is incredibly good time for stopping three times for food, gas, and/or liquids.  (Sasha, of course, went for a walk at each stop.)
I'd made a torta from our leftovers, and it made a nummy meal. (That's another post.)
The Ashland Creek Inn is simply lovely. We're in the Sienna room — a high-ceilinged suite with tall doors opening onto a deck overlooking the river, with another set of doors opening onto the street (which would make for a delightful breeze in the summer). There is a 2-person bathtub, TV & DVD player, and a gas fireplace behind a sweet set of cast iron doors. The bed is king-sized and has a reasonable amount of pillows on it, with a good mattress. The room gets a lot of natural light.
Pictures: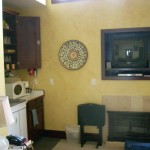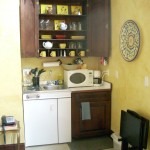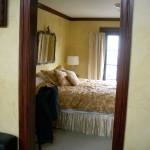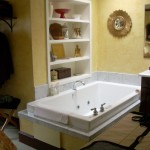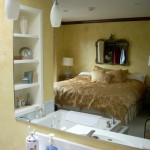 The downside is the light (for those of us who are crepuscular) and that the tub is not in an enclosed room — so you don't get the steamy effect of a good hot bath. It's also difficult to eat inside, there are only a couple of 'tray' tables.
Breakfast is included, but they don't start serving until 9am. We were up at 6am, so after J. took Sasha for a walk, he went out to get a couple of muffins from The Ashland Bakery & Cafe — a longtime favorite. SADNESS! The ABC has closed down, replaced by a pizza place. Not wanting to return empty-handed, J. went to Mix, which specializes in desserts, but has a nice selection of pastries.
Ugh. My cheese danish was mealy, the pastry ok but (of all things) over-buttery (as in: greasy). The mini lemon poundcake was overly sweet in a weird kind of way and also greasy. J. had a chocolate croissant, but put it down after a single bite. His comment? "Thoroughly disappointing."
Thank goodness for breakfast. Today it was a 'tropical' smoothie, fruit cup (grapes, apples, pears, mandarin orange sections, and pineapple) spinach-egg cup (layers of spinach, scrambled egg, and cheese — Gruyere? — in a custard cup, baked with a bit of breadcrumbs toasted on top). Accompanied by strong (very!) coffee, a chicken-apple sausage, an English muffin and marionberry preserves to slather on top, this was a well-presented and very tasty way to start the day. I also appreciated the innkeepers and chef stopping to talk with everyone.
We took Sasha with us and ran an errand, parking in downtown around 10:30am. We walked the eponymous main street and looked to see what was new, and what hadn't changed. I bought myself two hats (separate post) and we enjoyed our window shopping.
(As a side note, Sasha grins, almost all of the time, and its amusing to see how nearly everyone smiles back at her as we walk along.)
Lunch was take out from Sesame. I had tempura-battered cod with sweet potato fries and coleslaw; J. had cashew chicken and rice. We shared an order of coconut calamari. Very good, quite tasty. Recommended and we will eat here again.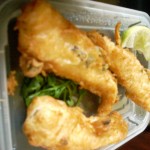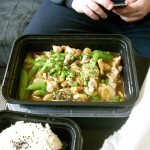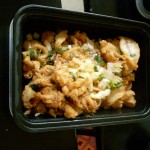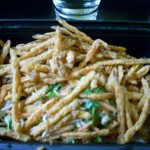 Tonight: Dinner at The Wine Bar, with the premiere of Hamlet  to follow.