Each year I like to look back over the previous year, and then set goals for the coming year. Many people do this on Jan 1st; I prefer to do it on my birthday. I often refine the accomplishments and goals until my new year, Samhain, but the bulk of the work is done on or around my birthday.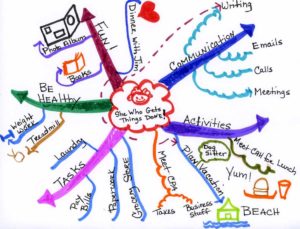 To see last year's post, click HERE.
Of my goals for the past year, I achieved:
Fix back-end issue at Facing North
Increase FN's exposure
Add three categories OR restructure FN
This turned out to be a much larger project than I'd anticipated, and I was expecting it to be a PITA. I ended up having to change webhosts, finally leaving my "Legacy" package from the long-defunct (and lamented) DrakNet (purchased by A Small Orange) and moving to a far more responsive webhost. This change was because ASO refused to update their PHP access unless I moved to a different (more expensive!) hosting package. .
I don't do well with blackmail.
But Facing North is now refurbished and far more functional. I'm not sure I achieved that much exposure for the site, but we do get 1300 unique viewers a month, which is not to shabby
Go through all "memories" boxes and sort to the minimum — this is as done as it can be for now. All extraneous stuff has been either digitized or tossed.
Finish fixing the front yard to make it appealing — progress has been made, but this is not yet accomplished. On the list for next year. (Note: This has been on my 'goal' list for too many years. It's getting done, no matter what.)
Finish hemming & hanging curtains throughout the house — done!
Begin to pare down possessions — Etsy and eBay have been useful for getting rid of a lot of my magazine collection and my extra Belleek. I'm not in it for the money, just to find new homes for beloved things. We also sold several pieces of furniture and it opened up our downstairs in a great way. This is a task that has several levels and won't be complete for years, but we are making progress.
Go through craft closet — do or delete. Technically this is in progress, but everything I don't want to do has been deleted. Next step is to make time to do those projects.
Finish at least three new advanced lessons with my coven. This has been a harder task than I envisioned. Not because they don't show up, but because we have a lot of 'admin' tasks that eat our time. We got three done, but need to do better going forward — not so much in quantity, but quality and depth.
Play the 'book' given to you by Voya Financial. This is a bit tricky, but despite the market ups and downs, we managed to stick with the playbook crafted by our financial advisor.
Aromatherapy Level I certification achieved — this was NOT accomplished, but that's because my teacher died. As much as I would like to continue, I frankly do not have the $$$ to spend on other programs. Perhaps another time, or in different circumstances.
Not on my list, but accomplished:
Write a book. Crafting Your Practice is 85% complete and I am very pleased with how it is evolving. Based on the 20 year old (!!!) Art of Ritual class, this has been a major effort of revision and vision.
Saved most of the "extra" income from the COVID monies. We are living fairly comfortably, and saving, on the money from my job. Which is precarious, but has been a great lesson in planning. When we both started getting extra monies, we saved most of it in our emergency account.
Created, and maintained, social events on Zoom. We now see and talk to our friends and family far more than we ever did before. I think it's been a life and sanity saver for all of us.
Started playing games more often. Mostly with J., but I am incorporating more play time into my life. It's been great fun trying new games and pulling out old favorites.
Assisted my mother with coming to realize that she needs to move, and moved her here by me.
Health was my big failure, and although I know that language is harsh it's perfectly valid. I have gotten further out of shape and out of the habit of exercise. Last year I was walking almost daily, and that basically stopped after we got back from Greece. I gained 20 pounds I did not need to gain. Restarting and returning to those better days must be accomplished this year, the time is running out for me to get into a healthy state before permanent, serious, damage is done.
These are my goals for the coming year.
Do a year of self care. Based on the book, Self Care Solution, I'll spend a year cycling through a month-long (four week) series of small, healthy, changes. Ideally, they will become habits that I maintain after the cycle. If not, they will be things I mostly incorporate into my day to day life. Those twelve items are: no alcohol, meditation, cardio, increased steps, less meat/more plants, water, stretching, low/no tech, no added sugar, 7+ hours sleep/ night, and a creative project.
Do what it takes to get my bloodwork looking healthy.
Finish the Household Binder — lots of legal documents still to be created and filed here
Transcribe father's family history
Create a Family Book (story)
Publish Crafting Your Practice.
Publish The Virtual Pagan 2.0. Time for a revision. It was good the first time, and I think its even more relevant now.
Finish fixing the front yard
Paint mirror frame
Paint my desk
Update paint in guest bath- and bedrooms
Do crafts in craft closet
Do a year of organizing. Twelve months of organizing, primarily the house. One task a month, starting now (September). Digital files, kitchen, garage, office(s), library, living & dining Rooms, bathrooms, halls/storage, craft supply closet, bedrooms, outside the house
Revise JaguarMoon's 2nd* handbook.
Find a new job.
No spend for a month (October or January)
Lose weight. My goal is 1 lb a week and 10″inches from my waist. Dieting will be a big part of that, and we're starting to work on a plan. (Our idea is to have meals that are 3-4 oz lean protein, 3-4 oz whole grains, and 8 oz of vegetables.)
I also do a tarot reading for my birthday. You can see that HERE.