I just came back from a weekend with my family in San Francisco. I flew down to heavy fog, and left in 70* sunshine.
That is the city of my youth in a nutshell: a dichotomy of dynamic tension.
I went down to help my mom with some tasks that needed doing, but would have left her in a lot of physical pain from her disability. It took most of two days to get it done, and I brought a number of things home with me to finish up, but she's in a much better place than when I arrived.
But lest you think this was a weekend of drudge – fear not! I had a great time visiting with her and with my sister's family.
In my mom's backyard the remnants of a palm tree she took down usually looms with a sad, sort of stressed out look. (Seriously — a few years ago she took a machete to it and goes out every once in a while to hack off any upstart reappearances of life.) A neighbor covered it with one of those holiday 'angels' made of woven willow and it now presents a more artistic shape to the world.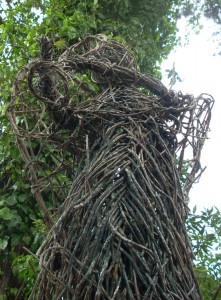 I found it seriously funky — and fascinating.
My sister's yard is blooming beautifully, the roses are obviously very happy, and she's got a nice collection of herbs (sage, thyme, rosemary, mint, etc.) going in the back area. Of course, I covet her lemon tree. But then again, she misses her Buddleia and covets my lilac tree in return.We spent a nice afternoon out there, enjoying the sunshine and watching the McSherry Heir play.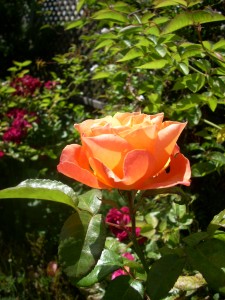 On Saturday we (minus mom) went to a strange place called FairyLand over by Lake Merced. This is a strange, STRANGE, place, but sweet in a funky kind of way. The concept is that children's fairy tales are turned into a play area. So we have things like this: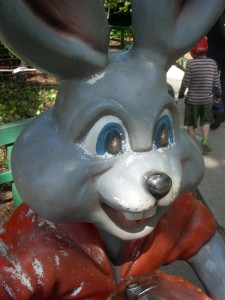 (note the mad gleam in his eye . . .) or this: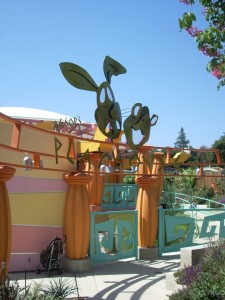 Then again, I really liked the Alice in Wonderland 'down the rabbit hole' installation: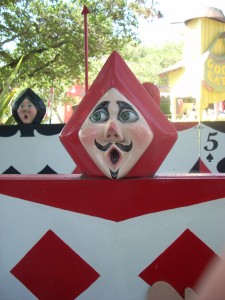 particularly the paintings on the walls: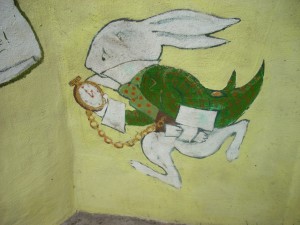 All in all, it was a lovely time. Weird, but lovely.