"Winner of Michelin's Three Star, Forbes Five-Star, AAA Five Diamond, and Wine Spectator's Grand Award, Joël Robuchon has redefined Las Vegas fine dining." Yes. We knew this was going to be a special occasion, a once in a lifetime meal, and we were not disappointed.
Entering, we were struck by the opulence of their version of a French Country manor. Velvet covered chairs and lounges in deep jewel tones of purple and blue, with white and silver furniture, overhead a huge crystal chandelier sparkled.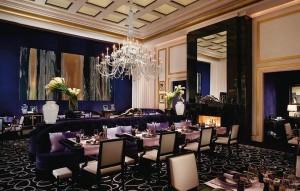 We were seated on the 'terrace' — five tables (four of which were for only two guests) set on an artfully recreated stone terrace, complete with a retracted awning. Across from the entrance was a living wall — 25 feet tall and 40 feet wide, covered in ivy. At the base of this wall were dozens of potted begonias. Astonishing on its own, but even more so when you consider that JR is in the heart of the MGM Grand.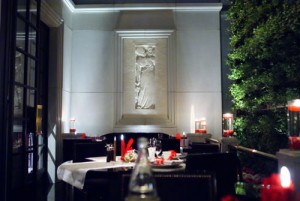 Before I get into raptures over the food, I must say that the service was wonderful. The sommelier (one of several) was attentive and amusing — she actually described the wines in 'real person' language and made excellent choices for me. (I had several selections, to pair with the various courses). Our waiter was amusing and helpful, and we never felt rushed or as if he was hovering.
Now for the glorious food . . .
The Amuse Bouche was a tin of caviar. When opened it revealed a layer of caviar atop fresh King Crab held together with just the lightest touch of fennel cream. The cream and caviar combined to make the crab taste like the best crab ever. Ur-crab. Proto-crab. The crab upon which crab is based . . . I liked it very much (J. not so much).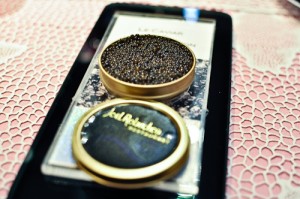 There was a bread trolley featuring about 30 different kinds of bread. Sweeter, yeastier, heavier, flavored . . . There were four kinds of foccacia (basil, rosemary, garlic and plain) formed into 1.5″ balls. There were 1/2 dozen kinds of rolls. There were baguettes and sourdoughs. Yum. We made our selections and they returned in a few minutes . .  WARMED. (Heaven.) Periodically throughout the meal we were offered more.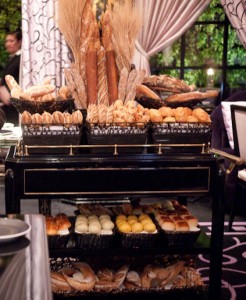 Appetizer
#  La Tomate en salade, huile d'olive au basilic, tomate et mozzarella en gelée was a salad of tomato, basil infused olive oil, tomato gelée topped with mozzarella. J. ordered this thinking it would be along the lines of what we usually think of: slices of tomato interspersed with basil and slices of fresh mozzarella. Nope! It was an incredible jello with micro dots of mozarella interspersed with micro dots of basil. Apparently it also tasted great.
#  La Langoustine truffée et cuite en ravioli à l'étuvée de chou vert. This truffled langoustine ravioli with chopped cabbage was an amazing pocket of bursting flavour.
Entree(s) (Yes, we had two entrees)
# Les Spaghettis à notre façon, œuf à la coque sans coque et une râpée de truffe blanche d'Alba. Homemade spaghetti, soft poached eggs and shaved white truffles — j. had this and loved it.
#  Le Homard pilaf de riz et oursins caramélisés aux saveurs orientales. Roasted lobster on pilaf rice and caramelized sea urchin with oriental essences made a delicious combination with just the right textures. I loved this.
#  Le Bœuf la noix d'entrecôte émincée, épinards au wasabi et légumes arlequins. J had this
Beef ribeye with wasabi spinach and enjoyed it muchly.
# # Le Bar et poulpe aux fins aromates avec un jus de citronnelle, jeunes poireaux et artichaut. Pan fried sea bass and octopus with lemon grass, baby leek and artichoke came together exquisitely.
There was a cheese trolley with about 25 kinds of cheese from all over Europe. We selected six and enjoyed ourselves . . . but none were so memorable that I can rhapsodize over them here.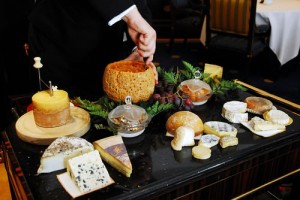 Then came dessert. J. had a fancy banana split kind of thing and I had a whimsical combination of creme brulee, hazelnut pop rocks candies, chocolate marshmallow, and ice cream. The plate was decorated with metallic purple paper and purple sparkles. They were lovely and light. The reason I can't remember much about them though is that when we had dessert they brought out the Mignardises Cart.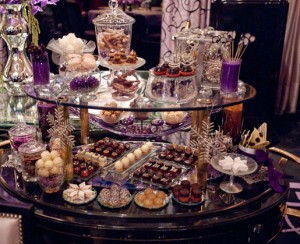 Apparently there are a team of pastry and confection chefs who just make things up each day. Lollipops and macrons . . . cookies and candies. Petit fours and marshmallow. Incredible.
We spent more than 3 hours on our dinner and left feeling full, but not stuffed. The portions were appropriate to give us a sense of pleasure, but not satiety. Truly wonderful.